Ranji



Kanji

No information

Rōmaji

Ranji

Race

Human

Gender

Male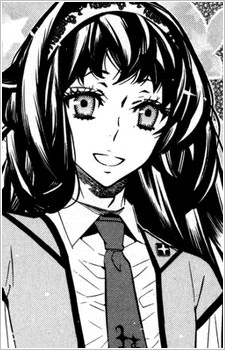 Ranji is a student representative of Kuronomei Academy. He is currently studying in the Management Information Course.
Appearance
Edit
Ranji has long black, waist length hair, often wearing a headband in his hair, and deep purple eyes. He is a cross dresser, and wears the female uniform for Kuronomei; a grey vest, a matching skirt, and a tie. His shirt is lavender, while his tie is pink, for the Management Information Course. He also wears pink thigh high socks.
Personality
Edit
Ranji is a very kind and caring person, though at times bickers with Shishi , Gareki's roomate. He is also very welcoming, as seen when he welcomes Gareki happily into Kuronomei, and shows him around.
Despite such, he is very strict, and will not hesitate to scold, or even beat up, someone who violates school regulations- who of which is usually Shishi.
Relationships
Edit
He seems to be on good terms with Ranji, though was surprised to find out he wasn't a girl.
He and Seseri take the same Management Information Course. They are often seen together. Ranji usually asks Seseri to watch over Gareki, having her spy on him to make sure he stays out of trouble and to make sure he doesn't go anywhere.
The two often bicker, but regardless, are friends. Ranji often visits Shishi and Gareki's dorm, much to his dismay. Ranji often scolds him when he skips class or does something stupid.
Ranji says that he admires Hirato a lot.
Abilities
Edit
He is a cross dresser
He is Kuronomei's Student Rep.
Community content is available under
CC-BY-SA
unless otherwise noted.