REASON

Opening

 | 

CD Cover



Information
Singer(s)/Band
KAmiYU
Length
1 minute, 30 seconds.
Anime Use
Episode 1 - TBD
Ending Guide
REASON is the first ending theme of the Karneval anime, sung by KAmiYU.
Characters in Order of Appearance
Lyrics
TV Version
Be my reason
Subete ga ima

Be my flowered future
Ugokidasu
Be my reason
Kimi no soba de

Be my flowered future
Kanjou no namae nante
Iidaseba kira ga nai kedo
Kimi no me ga sakube no nara

Honnou de kikiwakeru
(Trust) Tsukimatou
(Trust) Soko ni aru
Hikari mo yami mo

Tsunagari dasu
Piisu no you ni
Ryuu ga aru kara

Guuzen demo Nariyuki demo
Shijitai deai ni kawatteeiku
Kokoro no ondo go
Sukoshi zutsu agaru ne

Misekake ja nai kake waki mo nai
Honto no jibun no mama de
Eranda basho ni tatteru koto
Kimi ni tsutaetai yo

Be my reason
By your side
Be my flowered future
Be my reason
Everything depends on it right now

Be my flowered future
I get going
Be my reason
By your side

Be my flowered future
If we ever talk about feelings
There'll be no end to it
But if your eyes ever cry out

I would instinctively recognize it
(Trust) I follow you around
(Trust) It's over there
But the light and darkness

They begin to connect
Like puzzle pieces
Because there is a reason
Whether it happened by chance or by design

It will change into the encounter that I want to believe in
The temperature of my heart
Rises little by little
I'm not pretending, nor am I hiding anything

I'm just being myself
I want to tell you
That I'm standing in the place I've chosen
Be my reason

By your side
Be my flowered future
Watch Now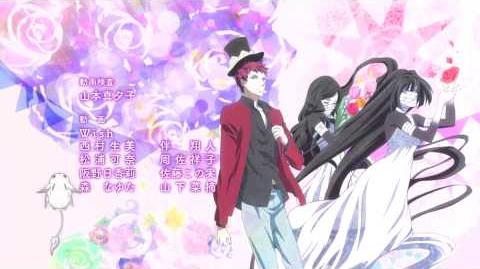 Community content is available under
CC-BY-SA
unless otherwise noted.