PLEASE BE AWARE THAT THIS WIKI CONTAINS HEAVY SPOILERS!
This is a wiki that archives the events that happen in the Karneval manga and anime; heavy spoilers can be easily spotted, policies must be followed, and you will always have a chance to edit an article. There is a lot of work to do!
---
Welcome to the Karneval Wiki!
This wiki's main focus is to illustrate the events that transpire in the manga Karneval and anime created by Touya Mikanagi. Please help us construct the articles to high standards, as well as creating new ones! We are currently hosting over 170 Articles on this wiki.
Featured Article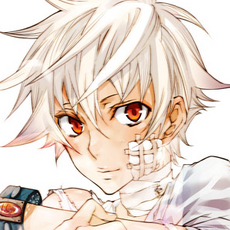 Nai
Nai is a young boy who travels in search of Karoku, a man who one day disappeared from Nai's home and, since then, has not returned. Whilst being abused by Mine, Nai meets a boy named Gareki. He receives help from Gareki as they try to escape the town they are currently stationed in, with the Police Force rapidly tracing their every step. As they board a train, they encounter a man with exceptional abilities, and a girl with sharp moves. They introduce themselves to Nai and Gareki, stating that they are from Circus. Shortly thereafter, Nai and Gareki are taken to the Circus ship.
(more...)
Recent Manga Chapter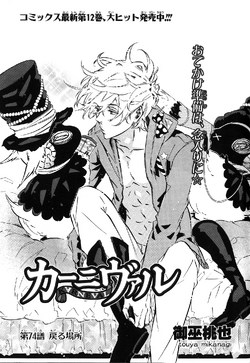 Chapter 78: With His Hand
Again... Spoiler alert! Read at your own risk! Please do not assume that this is a correct translation until further notice.
---
Read the full summary here.
Recent Anime Episode
Episode 13: Karneval
The latest episode Karneval is up! Watch the story continue!
Related Sites
Official Sites
General Sites
Affiliated Sites
If you would like to become an affiliate of the Karneval Wiki contact us.
Recent Blogs
Twitter
Featured Picture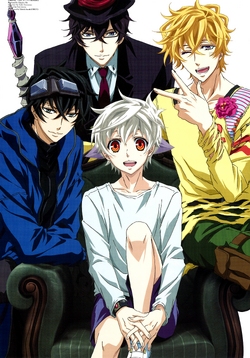 We welcome you.
Featured Quote
"
In order for the company to survive, laying off workers was unavoidable. You say that is evil, but you are doing even worst by getting my innocent granddaughter involved.
"
Did You Know?
...That Nai is a boy?
...That Circus is an elite organization?
...That Karneval has great ratings?
...That Mega is an admin on the Fairy Tail wiki?
...That Calu is a chat moderator on the One Piece wiki?
...That Wrath is Hat?
...That KouHime is the oldest in activity on the wiki?
...That the wiki only has four active users?
...That we would love to have more active users.
...That we love to have fun.
...That the anime is only 12 episodes.
...That the manga is still ongoing.
...That Karneval is pretty popular.
Poll
Quick News
No quick news for now!