m

m

Line 1:
Line 1:
 

{{Song

 

{{Song

−

|image = [[File:Karneval cast.png|300px]]

+

|image = [[:Karneval cast.png|300px]]

 

|name = Henai no Rondo

 

|name = Henai no Rondo

 

|kanji =偏愛の輪舞曲

 

|kanji =偏愛の輪舞曲
---
Revision as of 00:40, 17 April 2013
Henai no Rondo
Opening | CD Cover



Information
Kanji
偏愛の輪舞曲
Rōmaji
Rondo of Favoritism
Singer(s)/Band
GRANRODEO
Length
1 minute, 25 seconds.
Anime Use
Episode 2 - TBD
Opening Guide
Henai no Rondo (偏愛の輪舞曲, Rondo of Favoritism) is the first opening theme of the Karneval anime, sung by GRANRODEO.
Characters in Order of Appearance
Lyrics
TV Version
<poem>
Irotoridori no oto wo tsuraunite Karada ga hanatsu bimi naru ondo
Yoru no otozure wo matsu hanano youni Hikari wo osoreteru Maware kieteyuku made Sono mi wo kogasu subete
Sarakedase shinayaka ni Shizuku wa mitsumeru Ai wo kikaseru tameno Kotaba wo shitteru noni
Ai wo kataru tame no kotoba wa nai Nakinurete furuetatte Haruka tooi sugao wa Koi kogareru nukumori no sutoorii Sono mimi ni nokoru nowa
henai no rondo
Penetrating through colorful tones of music
My body emits an alluring warmth

Like a flower awaiting the embrace of nightfall
It shines away from the light
Revolve until it disappears
Expose with grace

All that consumes my body with passion
The tear drops are watching
Even though I know the words
To make you listen to love
I do not have words to speak of my love.

Even trembling with the tears
The real face I once had
Tells the story of my burning love
The pieces of echos that is left in my ears is
The rondo of passion.
Watch Now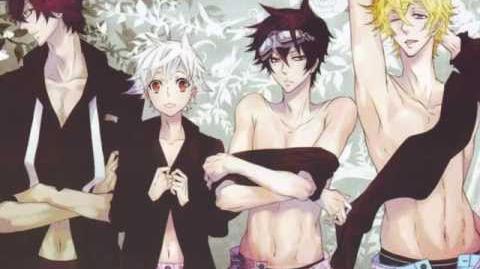 Karneval Music

Opening Songs

First Season
Henai no Rondo

Ending Songs

First Season
REASON